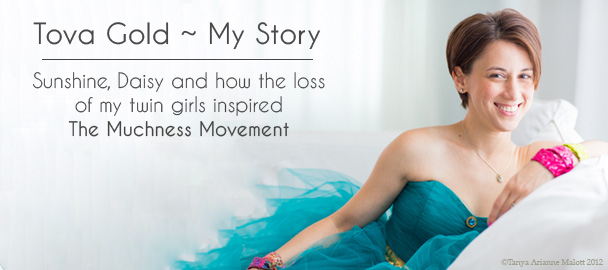 Hi.
My name is Tova Gold and I started The Muchness Movement in memory of my identical twin daughters, forever nicknamed Sunshine & Daisy. Because of a rare placental disorder called Twin To Twin Transfusion Syndrome, my girls were born sleeping on September 25th, 2009. You can read more about my story here.
Discovering The Muchness is what helped me to find joy again, and inspiring others to find The Muchness in their lives has become, pretty much, My Muchness. Any individual, be it a babyloss mom or not, that finds inspiration in my story, The Muchness Community, or via the products I've created, is a person that makes the loss of my little girls just a little bit less in vain.
I was able to tap into my Muchness with the help of sparkle, sequins, color & shine. But a lot of people have told me that they don't know what their Muchness "is." Frankly, when I started this journey neither did I, and I certainly didn't have a name for it. But I knew that wearing sequins, looking at them sparkle in the light, was in direct contrast – the physical opposite- of the murky, depressed, darkness I was feeling inside. And that is why it helped me.
It is simply more difficult to feel that depressed on the inside when you are physically forcing yourself to sparkle on the outside.
Then a lot of people told me that they LOVE the sparkle, but can't really wear it on a day to day basis like I can. I'll admit, I have a career that allows me to push that envelope. And I live in New York where sequins in broad daylight is nothing out of the ordinary. But those comments are what sparked this idea. I feel like everyone should feel confident using sparkle to tap into the light and energy and Muchness that lives inside them. The sparkle and color that helped me break through the gray.
And so, taking my strengths and experience as an accessory designer and my resources in the New York Garment district, the MUCHNESS BAND was born!
What is The Muchness Band?
The Muchness band is a beautiful silk band accented with beautiful, muchy sequins. Like a string people would tie around their finger to remind them of something in the days before we had smart phones to remind us of something, The Muchness Band is designed to simply remind you to see the light. Wrap it around your wrist, your ponytail, your bag strap… wherever you catch a glimpse of it, offering you a gentle reminder of all the beauty and light that surrounds us.
There's something else. There are secret messages I hold close to my heart. Words that keep me motivated, focused, inspired. For me, it's my daughters names- all four of them. They are the reason I am so invested in Spreading The Muchness. Built into The Muchness Band is a secret pouch. To write a note to yourself. A note of strength. Of inspiration. Of remembrance of loved ones lost. To hold with you, close to your heart.
…But wait. There's more. I've found on my journey through grief, that there is so much inspiring wisdom out there, and quotes, the kind that really speak to our soul, provide a comfort & strength that… well, I can not find the words to explain their power. I will print a quote on the inside of the Muchness Bands. For an extra boost of positivity. Pick a quote that you love that speaks to your soul.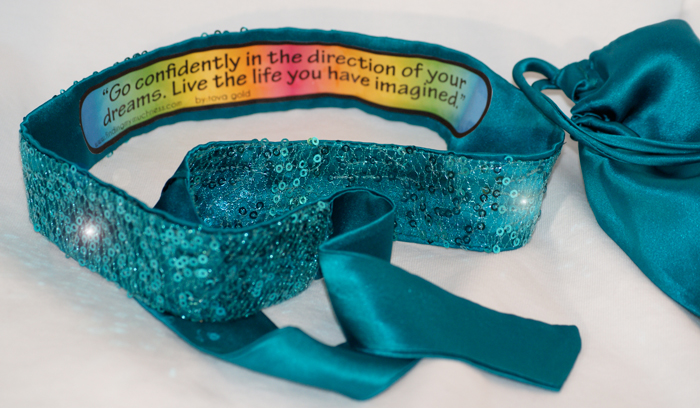 The Muchness band is a beautiful gift to offer someone that you know has gone through a rough time and is looking to re-find their strength. It is a gift to give yourself, when the day-to-day challenges of life make you feel out of touch with your Muchness.
Where do Muchness Bands come from?
Product Information:
Every Muchness band is designed with a Secret Pocket in which to hide the included "wish strips" with your own hand written words of strength or love or happiness.

All bands come complete with: a customized inspirational quote, a matching silk drawstring bag, a book of 'wish strips' and a "What's Muchness?" information booklet.
Available Sizes:
Traditional/Classic Length: 22″ long. It is ideal for wrapping twice around your wrist. It can be worn as a choker, or wrapped multiple times around a ponytail. It can also be tied around the handle of a purse or any number of other items.
Extra Long: 34″ long. It is ideally worn as a headband or wrapped multiple times around your wrist. It too can be wrapped and tied around a belt loop or ponytail.
See other ways to enjoy your Muchness Band in the Gallery.
The Muchness Gives Back! A portion of the net proceeds from all Muchness Product sales goes towards charities dedicated to ending infant loss or support for families experiencing these heartbreaking losses. We also donate to various other charities that do important work. 
[button_icon icon="gift" href="https://shop.findingmymuchness.com/shop/"]Start Shopping[/button_icon]