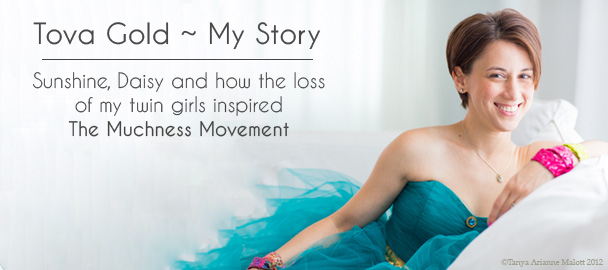 Hi.
My name is Tova Gold and I started The Muchness Movement in memory of my identical twin daughters, forever nicknamed Sunshine & Daisy. Because of a rare placental disorder called Twin To Twin Transfusion Syndrome, my girls were born sleeping on September 25th, 2009. You can read more about my story here.
Discovering The Muchness is what helped me to find joy again, and inspiring others to find The Muchness in their lives has become, pretty much, My Muchness. Any individual, be it a babyloss mom or not, that finds inspiration in my story, The Muchness Community, or via the products I've created, is a person that makes the loss of my little girls just a little bit less in vain.
I was able to tap into my Muchness with the help of sparkle, sequins, color & shine. But a lot of people have told me that they don't know what their Muchness "is." Frankly, when I started this journey neither did I, and I certainly didn't have a name for it. But I knew that wearing sequins, looking at them sparkle in the light, was in direct contrast – the physical opposite- of the murky, depressed, darkness I was feeling inside. And that is why it helped me.
It is simply more difficult to feel that depressed on the inside when you are physically forcing yourself to sparkle on the outside.
Then a lot of people told me that they LOVE the sparkle, but can't really wear it on a day to day basis like I can. I'll admit, I have a career that allows me to push that envelope. And I live in New York where sequins in broad daylight is nothing out of the ordinary. But those comments are what sparked this idea. I feel like everyone should feel confident using sparkle to tap into the light and energy and Muchness that lives inside them. The sparkle and color that helped me break through the gray.
And so, taking my strengths and experience as an accessory designer and my resources in the New York Garment district, the MUCHNESS BAND was born!
[button_icon icon="gift" href="https://shop.findingmymuchness.com/shop/"]Start Shopping[/button_icon]